Product Categories
LED Series:
Halogen Tungsten series: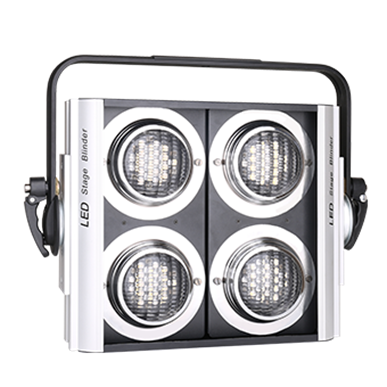 DD-SB4A
LED stage blinder 4-A
Voltage:AC100-240V/50-60Hz
Light source:4 modules LED light source, each module using 21 pcs LEDs 3030 or 3535, single power 5W .<
Lamp power:320W
CCT:normally 3200k or custom made for customers.
LED stage blinder 4-A product description:
1. The light source adopts four module LED light sources consisting of 21 3030 LED light sources or 3535 LED light sources (single light source power 5W), which has high light extraction efficiency and good heat dissipation.
2. The optical system is a combined aspherical light path designed according to the characteristics of the lamp. The light extraction efficiency is high, the spot is uniform, and there is no yellow edge blue edge phenomenon.
3. The lamp cooling system is designed to be customized according to the structural characteristics of the lamp and the heating characteristics of the light source. The product is excellent in heat dissipation and low in noise.
4. The software is designed by top international engineers in the industry, using the most advanced CPU, 16-bit or more jitter-free smooth linear dimming. The dimming frequency is above 20K. The control channel can be selected in both 1-channel and 9-channel modes depending on the field usage.
5. The color temperature can be selected from 2700K to 6500K according to customer requirements. The color rendering index can be selected from the range of 70% to 97%.
6. The product input power can have multiple inputs and outputs. Cross each other.
7. The lamp body of this product is made of aluminum alloy material, which can be combined in any combination.
8. The LED four-eye audience light is higher than the traditional four-eye audience light (2600W), and the spot is even. It is a very valuable product with low energy consumption, high efficiency and high cost performance.